MATHBOT MATH GAME GAMEBOT TEXTTWIST TRIVIA BOT TRIVIABOT UZZAP GAMES WORD HUNT GTA REBUS UZZAP MADGAB PYTHON QUIZ SCRIPT PYTHON TRIVIA SCRIPT ALGEBRA UZZAP S60V2 UZZAP S60V3 UZZAP S60V5 UZZAP NOKIA APPLICATIONS
VB Visual Basic Program Code
GAME CORE 4.5


"THIS SITE IS TEMPORARILY CLOSED."
EFFECTIVE: August 1, 2011
I'm Kinda very BUSY now!
I'll be back soon...
With more awesome UPDATES!!!



` SYSTEMS OFFLINE!!!
` Master:

UZZAP GAMES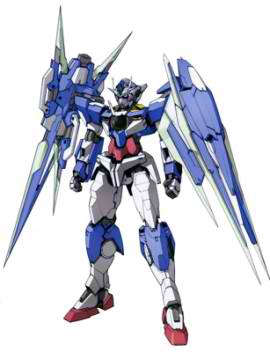 ---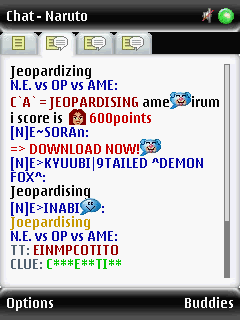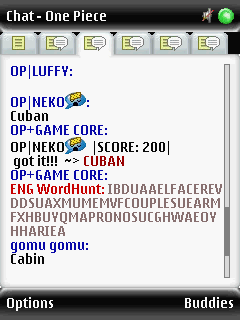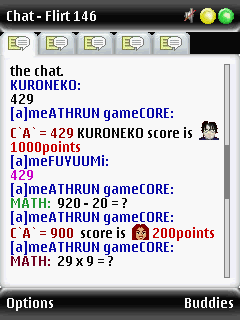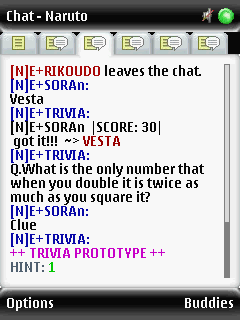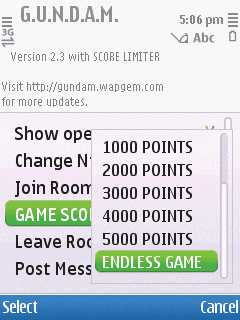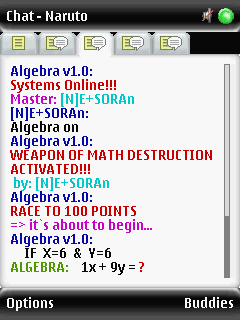 ---
GAME SCREENSHOT with MATHbot ,
SCORE LIMITER,WordHUNT, and the all new
---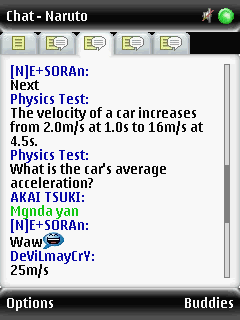 ---
PHYSICS
~>
---
Notice: PLEASE READ INSTRUCTIONS
=> If you already have Python on your Phone, then All you need to download is
GameFiles.zip
=>The Python in this site is a Signed Version, install it anytime.
=>The program works better on
Python Version 1.4.5 final
=>The GAMEBOT must have its own UZZAP I.D. For logging in.One for the TextTwist and One for your UZZAP.
=> If certificate error occurs please set your phone's Time and Date to
January 1, 2007 or 2008 or 2009
you can later Set your ph0ne's Time and Date settings to normal after installing The program.
Program last Updated:
UzZAP Multi Room
GAME CORE
[ MathQuiZ, TextTwist, WordHunt, REBUS, TRIVIA, ALGEBRA () ]
More and New fun GAMES COMING SOON!
+ Version 4.52 +
With ANTI-REPEAT PROGRAM!

* ERROR IN ALGEBRA CORRECTED!
* Random Quiz3 mode is not recommended, due to the category LOGIC and ANIME that has a very few Questionnaires.
* SumaSAGOT daw yung BOT ng Mag-isa
* PLEASE don't use this symbols for the nickname of the GameCORE <<<<>>>> GETS? Greater/less Than. There might be some symbols that are forbidden. So please be carefull
* ERROR HAS BEEN CORRECTED!!!
Compatible With NOKIA
S60v2, S60v3 and S60v5 phones
=>Nereprogram ko lang, wala kasing magawa eh. He.he. Ang saya talaga gumawa ng mga bagong games!
Check out my Latest projects! MathQuiZ, WordHunt and the all New PYTHON Quiz Trivia Script .
=>Feel Free to edit the Game Core.py PROGRAM with any TEXT EDITOR.
=> GAMEBOT na MultiRoom Play MathQuiZ, TextTwist & the new game WORDHUNT, in two rooms UPTO 38PLAYERS can participate. =>AUTO JOIN
=> ALGEBRA BETA is online!
=> UzZap MathBot is available
=> SCORE HAS NOW an EDITABLE LIMIT! the game will automatically end when a player reach the score limit and will declare the winner.
=> NEW GAME!!! Available!
Featuring:
Just Type in The Chatroom the Following
+Command List+
ACTIVATE
* type "activate" in the chat room to start the program!
GAME MODES:
RANDOM QUIZ1
* math,tt,wh
RANDOM QUIZ2
* with Trivia&GTA
RANDOM QUIZ3
* all in 1 game!
RANDOM GTA
* opm&foreign
TT ON
PH ON
TRIVIA ON
ANIME ON
LOGIC ON
GTA OPM
GTA FOREIGN
MATH ON
ALGEBRA ON
ENGLISH WORDHUNT
TAGALOG WORDHUNT
OTHER CONTROLS:
GAME OFF
CLUE
REPOST
CHALLENGE OFF
VERSION
LOCK
UNLOCK
/challenge Gamers 32
* 2nd room game participant.
/wmsg Hello! * Welcome Message
/wcbot on
* welcomeBOT `ON` only in Single room Mode. Do not use it when you are in MultiRoom mode.
/wcbot off
---
For Nokia S60v2
Download and install
---
1st)
Python.For.S60v2.1.44
2nd)
Python.Module.Pack.S60v2
3rd)
Python.Script.Shell.S60v2
4th)
GameCoreS60v2.sis
(N70)
*not yet updated(v4.4)
For Low-MEMORY phones:
GameCore-LOW.sis
++ and ++
TriviaCORE-separate.sis
+ DOWNLOAD +

aFTER installing GameCoreS60v2.sis an Icon will appear in the menu of your phone named "GameCore". Open and launched it. Enjoy!


---
For Nokia S60v3
Download and Install
---
1st)PythonForS60_1.4.5_S60v3
2nd)Python.Script.Shell.S60v3
3rd)GameFiles.zip
OPEN and EXTRACT ALL files in GameFiles.zip
Put the Extracted Files at Memory Card Location
e:/Python
---
LAUNCHING THE PROGRAM: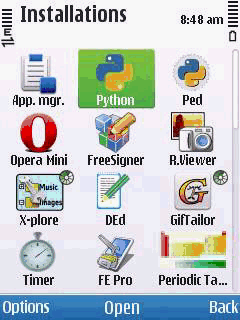 ---
>OPEN PYTHON from MENU
>PRESS "OPTIONS" and Select "Run Script"
> SELECT GaMe CoRe.py
> LOGIN TO YOUR ACCOUNT
> Join your desired room, And input the commands.
> ENJOY!! Yeah!
---
(* Not Tested Yet on S60v5*
please leave a comment to GuestBook. If this is working. Thank you...)
For Nokia S60v5
Download and Install
---
1st)PythonForS60_2.0.0_S60v5
2nd)Python.Script.Shell-S60v5
3rd)GameFiles.zip
OPEN and EXTRACT ALL files in GameFiles.zip
Put the Extracted Files at Memory Card Location
e:/Python
---






(if Expired Certificate Occurs: set PHONE DATE to March 1, 2010 or 2011
you can later Set your ph0ne's Time and Date settings to normal after installing The program.)


GameCore TRIVIA is currently in a development stage
with 3500+ questionnaires only, including the GTA,REBUS, etc...
*A Thousand more questionnaires will be added in the next program update!

For the Meantime you can create your own Questionnaires!!!!

The method used in GameCore is RANDOM SHUFFLE it means that your trivia questions are in random and it will never repeat during the game, Once the Questionnaires in a Category ran out, the GameCore automatically shutdowns.
EXIT FOR SHORT (LOL).

PLEASE BE CAREFULL!!!
Trivia is editable using Text editor, you can use the program
Xplore to create your own Questions just follow the format
UniqueNUMBER+ the symbol , + Question + the symbol , followed by the answer. Separate the UniqueNUMBER, Question and answer by the Symbol , punctuation mark or comma , ,,,,,,,,,,,,,,,,,,,,,,,,,,,,,,,,,,,, this is the symbol comma. GETS? ,,,,,,,,,,,,,,,,,,

EXAMPLE:
1,Who am I?,LOUISE
2,I AM,GUNDAM
3,I love what?,Summon Night

The UniqueNumber is:
1
The question is:
Who am I?
The answer is:
Louise

after creating the question, procede to the next line.

PLEASE DO NOT EVER:
+ SAVE AS UNICODE
if you save it as UNICODE, it will never work.

FORBIDDEN CHARACTERS:
, COMMA = Should only be used in separating the uniqueNUMBER,Question and the Answer
# = The Python NEGLECT this symbol

The question files are located at memory card location
e:/Python

>* OTHER TextTwist features are disabled to reduce flad.

* This program has no KeyLOGGER. Your UzZap acCount is 100% safe.
,.this is.,
GAMING DEDICATED ONLY!
If error Occurs just restart Python.


Programed by:
[a]meATHRUN
[N]E~SORAn

FaceBook
EMAIL: ravemark@yahoo.com


Credits to the ORIGINAL CREATORS of this application.

SPECIAL THANKS TO:
* A.M.E.
* Naruto Elite
* One Piece
and to all
* MSTR Gamers 32
pati nadin yung mga tambay dun na mga
addict sa games
he.he.

++++++++++++++++
RECOMENDED UZZAP VERSION!
SuperFast with no hang ups compare to newer versions but with reduced features.
UZZAP lower Ver.1.0.14
> Download NokiaS60v2
> Download NokiaS60v3
++++++++++++++++



---
For Comments and Suggestions
ENTER
>> GUEST BOOK <<
---
ATTENTION: WANTED DONORS!
GameCore needs the following:
+ Trivia Questions
+ GTA Foreign
+ GTA OPM
+ REBUS
+ ANIME TRIVIA(pwde din)
This is for the new VERSION of GameCore with ANTI-REPEAT program!
Just send your donations to: Gamers 32 and look for LouiSE. We will give credit for your WORKS by posting your Name on the GameCore program.
Let's make this program more powerfull!
BEST REGARDS TO ALL
+ CHAT BOX +
---
.
.
.
.
.
.
.
UZZAP MATH QUIZ GAME GUNDAM AGE